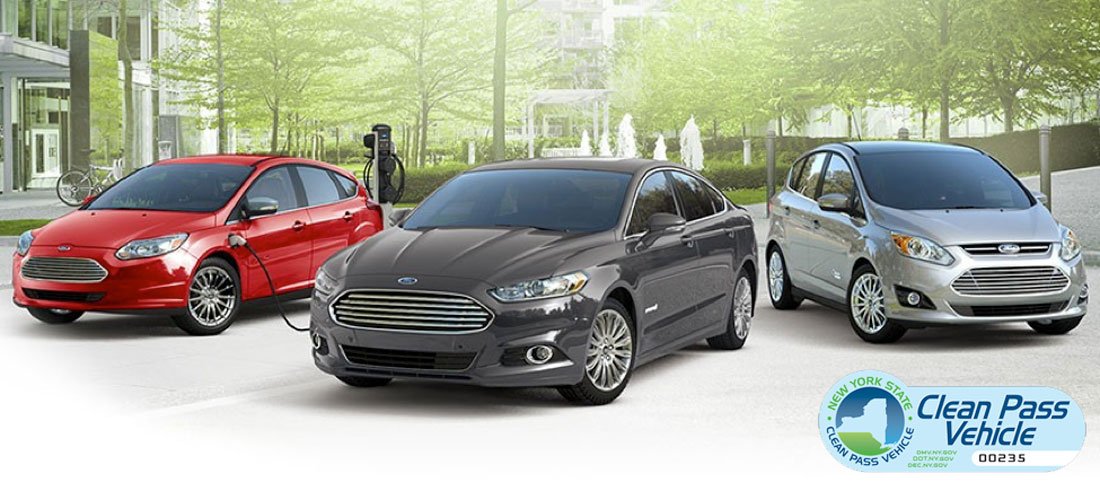 Ford EVs:
A choice of three powertrains to fit your customers' lifestyle.
Whether your customer wants a hybrid to get the increase in fuel economy, a plug-in hybrid to have the option to drive on electric power, or an all-electric car to forgo gasoline altogether, Ford offers an EV to fit their needs. We call this the power of choice and it's an important advantage over other manufacturers, who may limit the powertrains available to customers.

---
Benefits of a Plug-in Hybrid
Drivers who want to have the opportunity to travel on electric power alone but still want the reassurance of having a gasoline engine available are good candidates for plug-in hybrids.
 • Models available: C-Max Energi, Fusion Energi 
    Plug-in hybrids provide:   
   •  Lower fuel consumption and less CO2 emissions because electricity stored in the large capacity lithium-ion battery can be used to propel the car
   •  The choice of whether or not to plug in and charge the lithium-ion battery
   •  The selection of when to travel on electricity alone: right away, later or automatically
   •  The opportunity to charge the state-of-the-art lithium-ion battery using a 120-volt convenience charging cord or available 240-volt charging options
   •  Clean Pass Eligible - ( H.O.V. lane approved)

Essential Knowledge: When is plugging-in recommended?
It's recommended that drivers "top-off" the lithium-ion battery in a plug-in hybrid (or all-electric car) as often as possible, so there's electricity available to drive all-electric when desired.
Drivers can use one of three methods:
   •  The standard 120-volt convenience charging cord.
   •  Available Ford-recommended 240-volt home charging options.
   •  A publicly-available 240-volt charging station.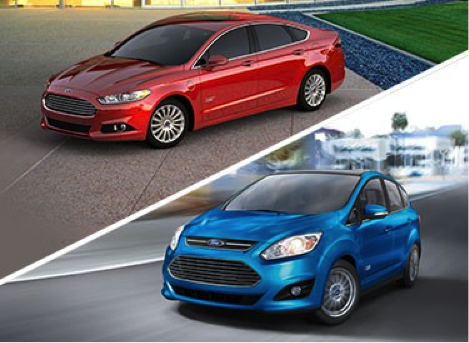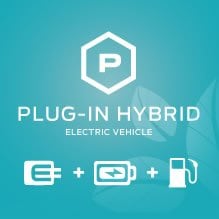 ---
Hybrids Provide:
 •   Models available: C-Max, Fusion Hybrid 
•   Lower fuel consumption when the electric motor is assisting or replacing the gasoline engine
•   Automatic charging of the battery that fuels the electric motor
•  The reassurance of having a traditional gasoline motor - Hybrids are not Plug-In vehicles.
Benefits of a Hybrid
A hybrid is a good option for the driver who wants to enjoy energy efficiency without changing the driving experience.
•    Hybrids are equipped with gasoline engines
Essential Knowledge: What is regenerative braking?
A key way to recharge the battery in a Ford EV is through the regenerative braking system. This technology captures energy from the braking process, converts it to electricity and stores it for later use in the car's state-of-the-art lithium-ion battery.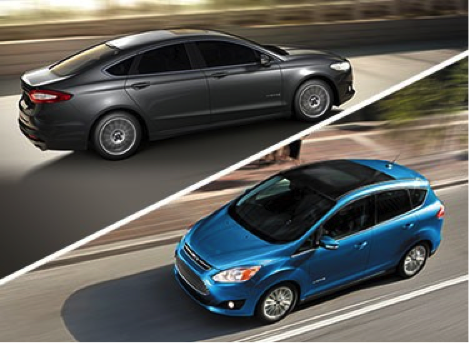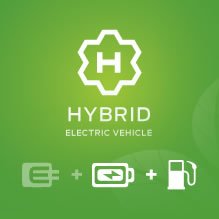 ---
Benefits of an All-Electric Vehicle
    • Models Available: Focus Electric   
Drivers who want to go completely gasoline-free, eliminating all CO2 emissions, are likely to select an all-electric vehicle.
    All-electric vehicles provide:   
•  Complete independence from fueling with gasoline
•  The ability to travel without producing CO2 emissions
•  No oil and filter changes are needed
•  Immediate response when pressing the accelerator thanks to the electric traction motor coupled to a single-speed transmission
Essential Knowledge: Purchasing an electric vehicle can save up to $8,000.
The decision to drive electric can save an estimated $8,000(1) in fuel costs over 5 years. That's compared to the average new gas vehicle which gets 24 mpg and costs $11,000 to fuel over 5 years.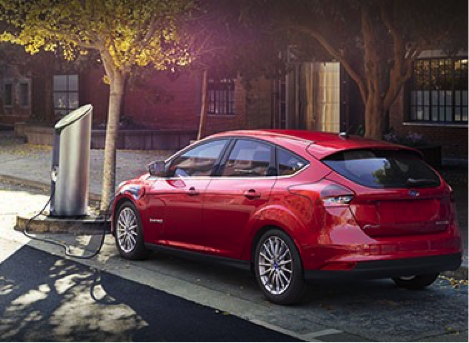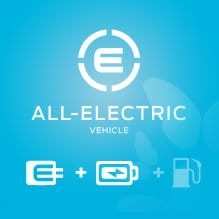 ---
(1) Source: Ford Focus Electric EPA Label. Actual costs will vary for many reasons, 
including driving conditions and how you drive and maintain your vehicle. 
The average new vehicle gets 24 mpg and costs $11,000 to fuel over 5 years. 
Cost estimates are based on 15,000 miles per year at $0.12 per kW-hr.