Benefits of a Plug-in Hybrid
Drivers who want to have the opportunity to travel on electric power alone but still want the reassurance of having a gasoline engine available are good candidates for plug-in hybrids.
 • Models available: C-Max Energi, Fusion Energi 
    Plug-in hybrids provide:   
   •  Lower fuel consumption and less CO2 emissions because electricity stored in the large capacity lithium-ion battery can be used to propel the car
   •  The choice of whether or not to plug in and charge the lithium-ion battery
   •  The selection of when to travel on electricity alone: right away, later or automatically
   •  The opportunity to charge the state-of-the-art lithium-ion battery using a 120-volt convenience charging cord or available 240-volt charging options
   •  Clean Pass Eligible - ( H.O.V. lane approved)

Essential Knowledge: When is plugging-in recommended?
It's recommended that drivers "top-off" the lithium-ion battery in a plug-in hybrid (or all-electric car) as often as possible, so there's electricity available to drive all-electric when desired.
Drivers can use one of three methods:
   •  The standard 120-volt convenience charging cord.
   •  Available Ford-recommended 240-volt home charging options.
   •  A publicly-available 240-volt charging station.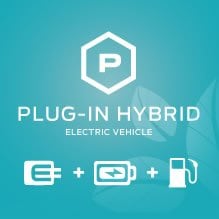 Benefits of an All-Electric Vehicle
    • Models Available: Focus Electric   
Drivers who want to go completely gasoline-free, eliminating all CO2 emissions, are likely to select an all-electric vehicle.
    All-electric vehicles provide:   
•  Complete independence from fueling with gasoline
•  The ability to travel without producing CO2 emissions
•  No oil and filter changes are needed
•  Immediate response when pressing the accelerator thanks to the electric traction motor coupled to a single-speed transmission
Essential Knowledge: Purchasing an electric vehicle can save up to $8,000.
The decision to drive electric can save an estimated $8,000(1) in fuel costs over 5 years. That's compared to the average new gas vehicle which gets 24 mpg and costs $11,000 to fuel over 5 years.