Sayville Ford | A ROUSH Performance Dealer

Long Island NY's Leading ROUSH Ford Dealer
Wanting to become more familiar with some of the most sought-after muscle cars and upgraded trucks available in Long Island NY? Well, you are in for a treat. The group of performance automotive experts waiting for you at Sayville Ford, the preferred provider of ROUSH Mustangs and F-150s throughout the Long Island area, knows a great deal about adding excitement to your routine drives and weekend excursions via a thrilling new high-powered ride crafted by revered ROUSH engineers.
Since we have your attention now, take just a few minutes to read through the defining aspects of this unparalleled selection of Ford vehicles featuring race-inspired modifications and unforgettable style. Once you learn about the historic lineage of ROUSH and the trim grades to choose from in their stellar lineup, we wager you will not put off any longer driving over to Sayville Ford and discussing with our auto professionals your direct path to grabbing hold of a ROUSH Mustang or F-150 in your name.
ROUSH Represents a Respected Heritage of Ingenuity
Let us start off this intriguing narrative by offering you the inside track on ROUSH Performance Products' illustrious background and the organization's steadfast commitment to continuously making strides in the automotive field. It all originates with Jack ROUSH, iconic American engineer, NASCAR owner sitting first in all-time wins, Automotive Hall of Fame member, and 2019 inductee for the NASCAR Hall of Fame. He was initially fixated on anything that involved amplifying the feeling of punching on the gas pedal and burning rubber on pavement, including hot rods and progressing the mechanics of racing.
After partnering up to form his own drag racing team, selling his designs in the motorsport arena, and achieving tremendous competition success, he established the ROUSH Performance Products company in 1995 to begin building the largest and most powerful array of aftermarket performance parts, unrivaled crate engines, and next-level vehicles. They flawlessly bring together the dynamic forces of leading the industry in original equipment manufacturer (OEM) parts innovation, drawing on his notable passion for racing, and utilizing the raw manufacturing talents of thousands of employees at ROUSH Industries.
What does this all mean for you? In short, you should have no doubts that any Mustangs or F-150s donning the "ROUSH" logo at Sayville Ford are primed and equipped to set free your inner speed demon on Long Island streets.
The future certainly looks bright for ROUSH Performance Products as its unyielding dedication to advancement, expansion, and continual performance supremacy separates the company from all other niche vehicle contenders trying to match their tier of accomplishments. Prove of this lofty outlook is all too evident when looking at the headquarters in Livonia, Michigan, consistently producing cutting-edge design ideas, revolutionary engineering techniques, and numerous front-line developments.
To summarize everything we just went over, the main point you will want to remember is feeding your hunger for fast maneuvering and seeing the competition fade away in your rearview mirror happens after you visit Sayville Ford to own a ROUSH Mustang or F-150 that gives you an edge thanks to the ROUSH Performance Parts team focusing on engineering creativity.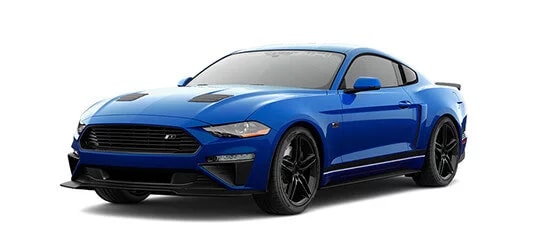 Pumping up Your Adrenaline with the 2021 ROUSH Stage 3 Mustang GT
25 years ago, the first ROUSH Performance Mustang hit the streets and set the bar for earth-shattering performance that was bred on the track. Today, the 2021 ROUSH Stage 3 delivers 750 horsepower and 670 lb-ft of torque to deliver a blistering 0-60 mph time of 3.6 seconds. Equipped in your choice of 6-speed manual or 10-speed automatic transmission, the power is yours to command. Inspired by Jack Roush's legendary reputation for engineering excellence and top-notch performance, engineers and designers at ROUSH comb over every detail to create the ultimate driving experience. For those craving even more power, a new 775 horsepower optional upgrade is now available for 2021.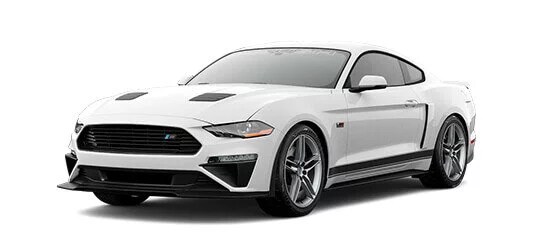 Preparing You for Track Dominance with the 2021 ROUSH Stage 2 Mustang
Race around corners and take sharp turns throughout Long Island smoothly in the driver's seat of your ROUSH Stage 2 Mustang containing a height-adjustable coilover suspension system, Continental ExtremeContact Sport tires on custom 20-in. quicksilver wheels, and a potent 5.0-L V8 engine that lets loose 460 hp. This ROUSH-converted muscle car has all of the power and handling capabilities you need to accelerate quickly and stay in front of the pack from start to finish.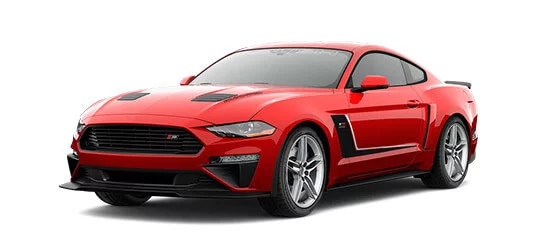 Redefining What Performance Means with the ROUSH Stage 3 Mustang
Adding a ROUSH Phase 1 Supercharger to the V8 engine for unleashing a breathtaking 710 hp and 610 lb.-ft. of torque, the ROUSH Stage 3 Mustang enables you to experience maximum exhilaration on wheels and tires rigorously tested by race car driver champions. Opt for the available ROUSH Active Exhaust System (stunning black finish) to choose stealth mode or race mode, as well as use the smartphone app for a custom-made tone that grabs attention wherever you go.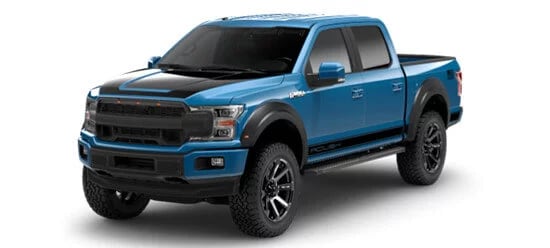 Conquer Anything in Your Path with the 2021 ROUSH F-150 XLT
Your off-roading adventures are taken to the extreme when you combine the driving dynamics and rugged adaptability of ROUSH F-150. A Fox 2.0 Performance Series coilover suspension raises its ground clearance two inches, while a redesigned suspension kit holds up in even the harshest environments. Plus, an optional ROUSH Dual Tip Active Exhaust System integrating ROUSH Performance valve technology gives you access to four different modes (Touring, Off-Road, Sport, and Custom) for steering tailored to your surroundings.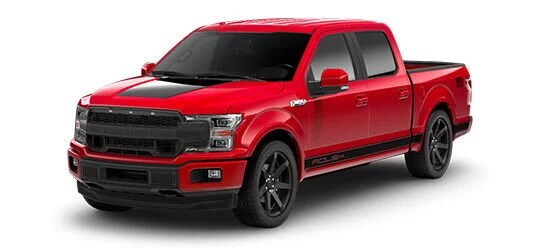 Show Off Your Street Style with the 2021 ROUSH F-150 Lariat
All eyes will definitely turn in your direction as you ride up in the ROUSH F-150 Sport exuding multiple forms of aggressive styling, including a horizontal bar brandishing the ROUSH logo on the front grille, 22-in. black wheels, dual-tip exhausts, and completely customizable graphics. Additionally, the standard Sport Lowering Kit creates a sleek, assertive stance that tells everyone on Long Island you are always ready to answer the call of the wild at a moment's notice.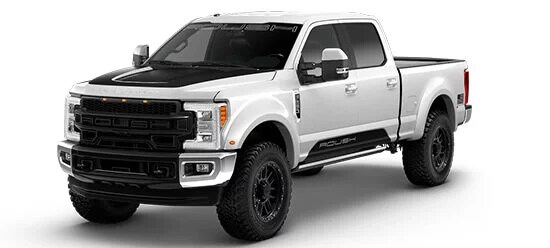 Stay in Command of Your Drives with the 2021 ROUSH Super Duty
The 2021 ROUSH Super Duty offers relentless capability paired with legendary ROUSH styling. The ROUSH Super Duty is outfitted with a high-performance coilover suspension system, ROUSH DPF-back dual-tip exhaust, and 20-inch ROUSH wheels rolling on 35-inch General Grabber A/TX tires for improved handling characteristics on and off-road. Iconic ROUSH styling is provided with aggressive fender flares, a custom high-flow ROUSH grille with dual LED light bars, ROUSH front bumper cover, and a ROUSH graphics package.
Given that you now have greater knowledge of the ROUSH distinction and how an unrelenting desire for performance excellence embodied by these world-renowned auto specialists can radically elevate your commutes across Long Island and trips beyond city limits, the only choice left to make is which trim variant you long for and cannot wait to get behind the wheel of as soon as possible.
Moving Forward with Help from the Sayville Ford Staff
As a result of going over all the details we have presented above, you are more than likely really excited and eager to join in the heart-pounding thrills of sitting at the helm of your own ROUSH vehicle. If so, spend some time looking over our related inventory or connect with us today at (855) 840-2771. Our team of committed, vastly qualified ROUSH Mustang and F-150 aficionados will gladly assist you in completing each step involved in purchasing the specialty model that transforms both your everyday drives in Long Island NY and track runs.
* Indicates a required field
Sorry, there are no matching vehicles in stock at this time. Please contact us for more information or submit a vehicle search request using our CarFinder tool.
Reset Search